Bryan Away uses EP Give In to look back on, and agonise over, times gone by, creating a wonderful feeling of isolation against an ominous sound.
Indie folk and experimental songwriter Bryan Away has a lot on his mind. His 5-track EP Give In is a way for the artist to make sense of the past, come to some conclusions and explore personal themes that he endlessly tries to make sense of throughout. With intricate guitar work and creative percussion, Away has let the music's complexity speak volumes, all set against lyrics of loss, longing and a feeling that peace and tranquility is always just out of reach.
EP-titled track Give In starts off the record with gentle, solemn, tailored keys subtly building into a rattling, unsettling strength. This is then quickly dissolved amongst Away's strong but intelligent vocals. It's a jarring opener that gives off an ambivalent feel, not only through the music but the lyrics: "It crossed my mind not just once but twice every vice m continuing sin, it's wearing thin."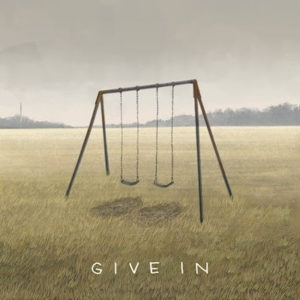 The atmosphere suddenly becomes more rounded on Birthday Song with the artist seemingly feeling old beyond his years with the weight of the world on his shoulders. This atmosphere is all set around a clever, eclectic rhythm that leaves you breathless as the ambience is heightened by its sobering vocal delivery. Children then calms things down a little with gentle melodies and acoustic guitar that rolls slowly forwards, relying on lyrics of regret and longing to push the narrative: "I just wish I'd been more bolder and kissed you right there in the cold blur".
By the time you're halfway through the EP, the listener thinks they know what to expect from the sound and lyrics, but there are still a few surprises to come. Pour One Out has a jazz feel to the drums and rhythms as it saunters along amongst underlying synths and a feeling of animosity, whereas EP closer An Ode to the Dog Days features a more raw and bluesy sound with fuzzy and unsettled guitars leading the track through its purposely messy sound. This idea is delightfully played with until it pulls itself together to create a fascinating end to the journey.
Give In is an impressive EP that just keeps giving. Although the overall message through the lyrics is one of isolation and a longing for times gone by, the music gradually evolves as the EP moves on, with the sound becoming more complex and distraught. You really get attached to what Away is trying to do, and it's hard to let go by the end. Bryan Away has created a strong piece of work here that leads the way for a more detailed LP that's hopefully in the works for the future.
Score: 4/5
By Jamie Parmenter