Bedouine: Queen Elizabeth Hall, South Bank Centre, London, Saturday 7th September 2019.
The British singer-songwriter Allman Brown was in an impish mood as he opened for the mercurial Bedouine last night at a two-thirds full Queen Elizabeth Hall: tentatively chewing the fat over last week's shenanigans in Westminster as well as regaling the audience with anecdotes about a Miami holiday and, most pressingly, his state of sleeplessness in the wake of a new baby's recent arrival.
The Hong Kong-born, London-based artist has taken a while to build upon the waves of interest generated in 2013 by his 'Sons and Daughters' single, a song which received millions of Spotify streams, half a million YouTube views and exposure on a slew of television shows. However, his warm-up slot last night demonstrated his innate facility for inducing emotional catharsis through lilting, heartfelt and expressive acoustic songs that glowed with a purposeful, loving embrace as well as hitting a raw, tender nerve.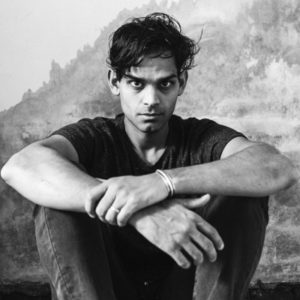 Addressing the punters in an engagingly affable tone, Brown spoke of the need to recognise the positive things happening in a world that seems to be falling apart at the seams, and both the copper-coloured opening 'Home' and the sure-footed title track of his latest album, 'Darling, It'll Be Alright', slipped into a lovelorn reverie that was both catchy and deeply romantic. "I pull you close to me/I still can't believe, that I am yours now forever", he intoned on the latter, drawing a tear from even the coldest of eyes with the vigour of his impassioned delivery.  
Armed with just his acoustic guitar, Brown made for endearing company with his Damien Rice and James Vincent McMorrow-influenced folk-pop; every strum of his guitar and each uttered syllable embodied a whispery, tremulous alchemy of restraint and bombast.
A relaxed and self-assured Azniv Korkejian aka Bedouine entered the stage, flanked by the bulk of a three-piece backing band including drummer Darren Beckett, guitarist Jason Roberts and bassist Gus Seyffert. Her recording alias, a Gallicised slant on the nomadic Bedouin, reflects her upbringing (born in Syria before moving to Saudi Arabia and then Los Angeles via Texas) rather than the trajectory and texture of her music, a laid-back, wistful and relaxed chamber- folk with 1970's leanings that's elevated by the classy warmth of the singer's low, velvety vocal hues. 
Whilst this year's latest disc, 'Bird Songs of a Killjoy', essayed a lusher production style than on her 2017 bare-as-bones debut, Bedouine's live set peppered her signature style with the garnish of incremental accoutrements: elicitations of Tim Buckley on the swooning 'One of these Days', 'the way in which Beckett's subtle washes on 'One More Time' recalled the lapping of water on rocks, a hitherto dormant penchant for funhouse yacht rock soundscapes on 'Dizzy'. Even when proceedings occasionally appeared one-paced and required some gallop, Korkejian's drowsy campfire meditations retained their emotional wallop and natural intimacy as she delivered each line with poise and with plainness.
Bedouine's softly spoken singing belies the wry mischief and laconic humour bestowed upon her London crowd, to whom she addressed: "We're from America but we come in peace!" From the outset she promised to be a palliative for nerves frazzled by the UK political drama unfolding every day before our eyes: "I know you're going through a lot right now, I hope you get to relax for a few hours". Later she encouraged the crowd to enjoy some "consensual action" to "this romantic one", and playfully cajoled them about Elton John before despatching a pristine cover of his 1970 masterwork, 'Come Down In Time,' a sigh of a song whose sparse and softly plucked style seemed custom-made for her. She even teased her fans with an anecdote about her two albums comprising her 'Greatest Hits'. 
The encore was reserved for just Bedouine and Seyffert, who rounded the evening off with a delicate, unadorned version of 'Bird', a luscious gesture of liberation whose Leonard Cohen-like cadences provided succour and respite from the anxiety permeating the British political landscape. In contrast to the soul-searching of many female singer-songwriters, Bedouine's probing of humanity and misty-voiced poeticism come wrapped in a steely reserve and exude both a disarming ease and a preternatural grasp of melody: her music is a balm.