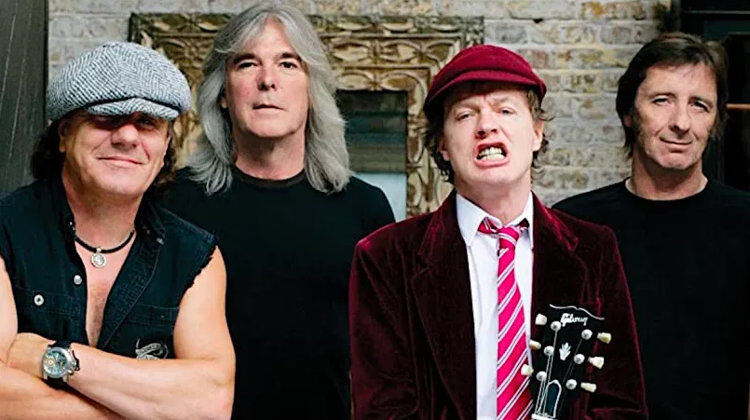 Against all the odds, AC/DC return in the finest of form with their pulsating and raucous new record, Power Up.
Being one of the most influential rock bands in the world can take its toll, especially when age kicks in, unforeseen problems ensue, and unmitigated circumstances throw spanners in the works. AC/DC have had a myriad of issues over the last decade – singer Brian Johnson had to step down with hearing problems, drummer Phil Rudd fell into problems with the law, and most harrowingly, rhythm guitarist Malcolm Young fell prey to dementia, sadly passing away in 2017. Add into this their advancing ages, and you'd think 2014s Rock or Bust would be their last studio album. 
The band had other ideas. Somehow AC/DC are back together, this time with Young's nephew Stevie on rhythm guitar, and sound as powerful and mesmerising as ever. Power Up is as much a tribute to Malcolm Young as it is a return to form (did they ever lose it?) full of big guitars, brash drums, and a lust for life most 20-year-olds don't have.
We're thrown right into the rock n roll fray with opener Realize, managing to feel both homely and raw. AC/DC are back. Big guitars, head-spinning riffs and Brian Johnson's pulsating, crowd-pleasing vocals are all there, and it's like they've never been away. It truly is a miracle how good Johnson's vocals are considering what he's been through, but they still manage to pierce through Angus Young's guitar work and hit the right notes against thumping drums with the band making it impossible not to get swept up in a heavy dose of nostalgia.
Rejection follows with its slower pace and perhaps a little influence from 80s Aerosmith, rolling along addictive rhythms provided by Stevie Young, slotting into place with ease. We're then thrown into 1st single and album highlight Shot in the Dark, building on bluesy riffs and that delightfully classic AC/DC sound that never ceases to age. Ever. In a current world of poppy hits and indie dance tones, the sound feels like a breath of fresh air, even though it's decades old.
There's no holding up as we venture into the deeper cuts of the record, stacked full of addictive melodies, rock 'n' roll cliches (that they somehow get away with without sounding cheesy), and guitars that feel like they're coming from at least 100 amps. Kick You When You're Down is the sound of a band having fun and realising any moment could be their last in the spotlight. Featuring one of the most fulfilling guitar solos on the record, it playfully pops and grooves its way to its conclusion. Demon Fire then offers something a little different and a little darker with a huge chorus and low, raspy vocal sections.
You'd think as we get nearer the end of the record, things would slow down, but this is AC/DC. Money Shot keeps the guitar riffs flowing and Johnson somehow still sounds as if he's 21. How he's come back to perform in such a mesmerising and powerful way is a testament to sheer grit and tenacity. The record then ends with Code Red, a slower-paced sound that seeps into your mind as the chorus emerges to a melody of vocals all fighting to be heard.
Against all the odds, AC/DC have returned with a belter of a record. Power Up reminds us of that classic AC/DC sound but feels like it has a bit of added grit due to the trials and tribulations the band have been through. This is something we should all adhere to in the current global situation. The world needs AC/DC and they've once again provided rock 'n' roll for everyone in their time of need.
Score: 4/5