The Staves continue with their persuasive and poignant indie music on the honest and sincere Good Woman.
The Staves are a trio that definitely deserve more recognition in their genre. A band known by some as the openers for Florence + The Machine, during her How Big, How Blue, How Beautiful tour, they have existed in the upper fringe of indie music since 2012, never quite emerging out to where they should be, and that's a shame.
Good Woman is a heartfelt and minimalistic album that aims to utilise its stripped-back presentation and vocal-led direction to create a unique soundscape. The album art is reminiscent of the likes of Looking Glass' debut, which, if deliberate, is a nice touch.
There's a lot of emotion packed into every song, and when reading up behind the scenes it's easy to understand why. The band took a hiatus in 2018 following the death of their mother, and other unfortunate events such as Camilla's long-term relationship crumbling around the same time.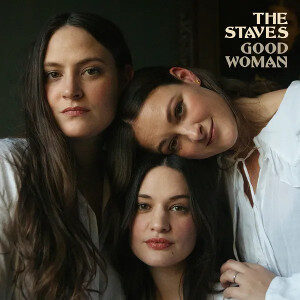 The title track is a good indication of how that pain was channelled, not through anger or resentment, but instead choosing to speak through the morose and the sincere. 'With half a heart, it's hard to start, but I feel as though I'm a good woman.' These lyrics, this sense of strife and searching for a sense of purpose, perfectly accented through each solemn vowel.
Musically, the trio rely on their powerful voices to take centre stage, backed by understated percussion and the occasional piano piece to accompany the clean, yet quiet, acoustic guitar. These passages are well recorded, fitting the theme perfectly, but clearly aren't the focus of the record, and that's more than understandable.
Sparks opens with an up-tempo acoustic guitar melody that plays the girls in. The Staves wrote on Twitter how this song was written as for memories and empowerment in the rough times, how it was dedicated to their mother. Looking at the lyrics, it's easy to see the correlation: 'I love your heart, I need you there' and Did it hurt? Did you feel? Is it over? Is it real?' are repeated consistently as the ladies sing with everything they have to give. It's not only a truly beautiful song, but also one that successfully manages to resonate with me, when conjuring memories of my own; most notably those in my life who are no longer there.
Failure exists in a similar vein as Florence + The Machine's song Grace. Both songs are about admitting to one's mistakes and acknowledging where they have gone wrong in the past. For both Florence and the Staveley-Taylor sisters, it's about how they 'ruined the party'. In The Staves' case, decrying their actions and those of the people that have judged them, explaining that they're 'a failure' but to 'act like you know me' or that you're 'part of the family' are redundant concepts. Honesty is a core tenant of the album as a whole. As you listen, it's clear that these women mean every word of what they're singing. In an industry fuelled by image, shock value and other maligned concepts, it's refreshing to hear music as genuine as this. That's the beauty that's brought out by the best singer-songwriters, their ability to capture their feelings; to turn their experiences into something relatable and layered through music.
The Staves may have traded the glamorous production of prior albums like If I Was and The Way Is Read, but the result is something truly transcendent for the genre. This is the music of people that wear their hearts on their sleeves, to be equal parts open and vulnerable, and it's something that should be celebrated.
Score: 4.5/5