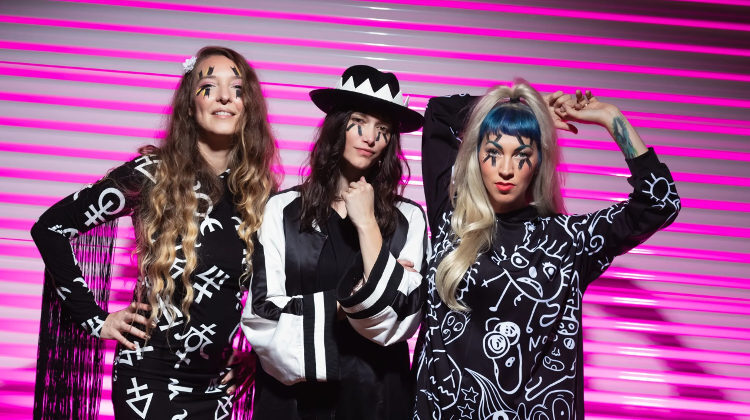 The Dead Deads juxtapose sleek vocals with fierce energy in their new album Tell Your Girls It's Alright.
If there ever were a modern band that could get away with sounding old-school without seeming dated, it's The Dead Deads – and what better song to give listeners a taste of what their new record Tell Your Girls It's Alright is all about than the album opener Sea Beast?
Energetic snare drums and rhythmic brass come together in the intro before we're treated to an atmospheric voiceover that sets the tone of the song barely thirty seconds in: 'Ladies and gentlemen, boys and girls, tonight we want to share with you a story about a beast that lives inside of you and me. But pay close attention because this parable begins at sea.' Combine this with the everchanging vocal styles ranging from sweet, sing-song melody lines to heavy growls and you have the ultimate encapsulation of what The Dead Deads can produce – and we're only just getting started.
Meanwhile, Hey Girlfriend turns up the nostalgia in that it sounds as though it could have been featured in the credits of a 2000s teen comedy film. Think Wild Child, St Trinians – if someone ever decides to grace us with a film like that again, please can we have this song included? Elsewhere, Dead Inside includes some pretty harmonies against a stripped-down timbre that involves an acoustic guitar and little else, whilst Out of the Sky is also worth an honourable mention for its pulsing drums, chromatic chord sequence, and relentless energy.
By far the best song on the record is Murder Ballad II, featuring Slipknot's Corey Taylor and serving as a follow-up to the song Murder Ballad on The Dead Deads' 2016 album For Your Obliteration. Sultry, sexy, and teeming with even more attitude than its predecessor, the disjointed time signatures and darker lyrics make this song an absolute delight: 'As our canon closes / We'll finally slip away / Lovers in a silhouette / Too earnest to decay / Choking back "I love you's" / Fingers digging in / If I can't have you, no one can / Let this end begin'.
On the whole, Tell Your Girls It's Alright is not a bad album by any means. The fusion of genres means there is something for everyone, and it's definitely a record that will be right up the street of alternative rock fans.
Score: 3.5/5