Michael Sumsion continues his list of this year's greatest albums with another 15 records.
With a plethora of hard-hitting, warm, wonderful, and charismatic releases in 2021, it was impossible to keep the list short. Because of this, part 2 of The 30 Albums That Made 2021 brings us another 15 albums that were a joy to listen to in a year that needed music more than ever.
15. Bess Atwell: 'Already, Always' (Real Kind)
On her smouldering sophomore release, the Brighton singer-songwriter crooned elegantly over a captivating and graceful indie-folk dreamscape of pillow-soft instrumentation and mesmerising tranquillity, essaying themes of loss, lust, desires, dreams, hopes, regrets, dependency and trauma. A stunning, fully realised and compelling release that thrummed with vitality and gentle echoes of the likes of Sharon Van Etten, Julia Jacklin and Our Broken Garden.
14. Arlo Parks: 'Collapsed In Sunbeams' (Transgressive)
The London singer-songwriter's first full-length harked back to Nineties trip-hop touchstones, yet its modish concerns (identity, depression, addiction, bisexuality) and delicate command of a street-smart vernacular merged exquisitely with a pop culture peppiness (Smiths Robert and Zadie are name-checked) and a fuzzy melancholia to haunting effect. Boasting the song of the year, 'Black Dog', this felt like a well-deserved Mercury Music Prize winner.
13. Ben LaMar Gay: 'Open Arms to Open Us' (International Anthem/Nonesuch)
'Open Arms to Open Us', the second album by the Chicago composer, instrumentalist and vocalist, proffered a riotous scampering through a myriad idioms, genres and styles, encompassing free jazz, funk, jerky electronics, motorik, schoolyard chant, hip-hop, samba, psychedelia and Radiohead's zestful skronk. Gay's bittersweet and velvety voice anchored the bonkers enterprise and provided both a blood flow and a gateway to the thrilling cross-pollination at play here.
12. Kit Sebastian: 'Melodi' (Mr Bongo)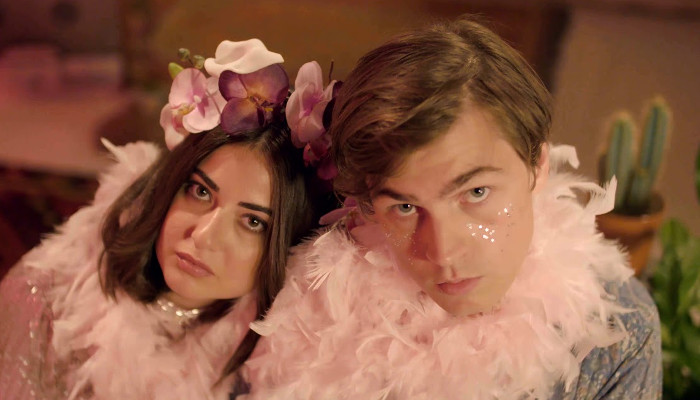 The London-based duo's inspired follow-up to 2019's excellent 'Mantra Moderne' drew from an equally cosmopolitan instrumental palette. Lyrically, the songs charted in picaresque fashion a ragbag of romantics, nihilists, insomniacs and dreamers, whilst flecks of Tropicalia, jazz-funk, art-rock, library music, pure pop and psychedelia nudged Kit Martin and Merve Erdem's beautifully low-slung grooves into unpredictable directions.
11. Sufjan Stevens & Angelo De Augustine: 'A Beginner's Mind' (Asthmatic Kitty)
Taking inspiration from the Zen Buddhist term, 'Shoshin', and a host of classic and not-so-classic movies close to their heart, this unique collaboration pivoted wistfully around Stevens and De Augustine's sloping candle-lit strums and hushed choir of two. 'A Beginner's Mind' was chock-full of pensive, tender and enchanting ruminations on mortality, spirituality and tragedy that deserved to be ranked alongside the former's career high points.
10. Hannah Peel: 'Fir Wave' (My Own Pleasure)
The classically-trained composer and multi-instrumentalist breathed woozy new life into the pioneering work of Delia Derbyshire and The Radiophonic Workshop on the heady, transporting, Mercury-nominated 'Fir Wave', a record whose themes of environmental concern were draped in rippling layers of foreboding digitalism and beatific, immersive undulations.
9. Emma-Jean Thackray: 'Yellow' (Movementt)
The hugely impressive debut release by the Yorkshire-born, London-based producer, trumpeter, bandleader and polymath was a soaring achievement, an exhilarating synthesis of cosmic P-Funk, 'Bitches Brew'-scented jazz, hippie-leaning psychedelia, choral vocals, Minnie Riperton stylings and SAULT-speckled pop structures that nodded towards the socially progressive concerns and crisp, succulent orchestral breakbeat of 4Hero's landmark 1998 opus, 'Two Pages'.
8. Yasmin Williams: 'Urban Driftwood' (Spinster)
On her ruminative second release, the 24-year-old, Virginia-based guitarist explored a broad range of registers, from frenetic to contemplative and jubilant, whilst invoking the natural world and finding fresh ways of coaxing new sounds from her New Age-infused finger-picking. Pitched somewhere between William Tyler and Mary Lattimore and accompanied by cello, kora and djembe, 'Urban Driftwood' consoled and entranced in equal measure.
7. Floating Points, Pharoah Sanders & The London Symphony Orchestra: 'Promises' (Luaka Bop).
Any concerns that this genre-splicing hook-up between The LSO, astral jazz pioneer Sanders and bleeding-edge polymath Floating Points aka Sam Shepherd would be an airless and tasteful vanity project were promptly dispelled from the outset. This elegant, extraordinary, nine-movement suite conjured up a serene melange of pillowy synths, celestial strings and breathy sax meditations. Anchored by composer Shepherd's woozy strain of ambient burbles, 'Promises' dialled down Sanders' trademark dervish holler and was all the better for it, a languid dialogue of cosmic drone and wistful psychedelia.
6. Low: 'Hey What' (Sub Pop).
Alan Sparhawk and Mimi Parker's thirteenth long-player as slow-core outfit Low offered a harbour fog of mournful electronics, spluttering guitar feedback, besieged vocals and glacial melodies a-plenty. The songs initially appeared frosty and inauspicious, even alienating, but repeated exposure unleashed moments of fragile, holistic beauty and incantatory bliss.

5. Amanda Whiting: 'After Dark' (Jazzman).
The Welsh harpist's mesmerising set made for an intimate, delicate and subtle expression of nocturnal warmth and soulfulness. Informed by both jazz and classical sources and demonstrating an innate melodic flair, the erstwhile Gondwana Orchestra musician nailed a brooding, smouldering atmosphere of velvety, coquettish quivers.
4. Lightning Bug: 'A Color of the Sky' (Fat Possum).
The New York shoe-gazers' third release proved to be their most cohesive and magnetic to date, a sonic cauldron of bubbling synthesisers, fluttering drums and sombre guitars that weaved intimations of hushed folk and Americana into the mix. 'Reprise' and 'September Song, pt. ii' were two of the loveliest melodies of the year.
3. Faye Webster: 'I Know I'm Funny haha' (Secretly Canadian).
The 23-year-old Webster's tremulous blend of economical storytelling, lovesick lolling and languid folk-soft-rock tones took cues from Natalie Prass's confessional debut from 2015 whilst sounding as fresh as a daisy. The strings-festooned 'A Stranger' and the disarming 'Sometimes' were typical of the record's emotional precision and textural sweeps.
2. Jarvis Cocker: 'Chansons d'Ennui Tip-Top' (ABKCO).
On this lovingly crafted companion to Wes Anderson's latest film, 'The French Dispatch', the ex-Pulp frontman indulged his long-held penchant for classic French pop from the 1960s and 1970s and specifically Serge Gainsbourg's gauloise-drenched lounge-lizard shtick; this classy and suave compendium of material associated with or composed by Hardy, Bardot, Gainsbourg, Dutronc et al effortlessly transcended kitsch pastiche and elicited a plethora of goosebump moments.
1. Will Stratton: 'The Changing Wilderness' (Bella Union)
The New York singer-songwriter's seventh album was one of 2021's deepest pleasures, a sonorous set of sumptuous folk-pop and organic instrumentation that shifted his gaze outwards to interrogate the state of his nation with penetrating insight.