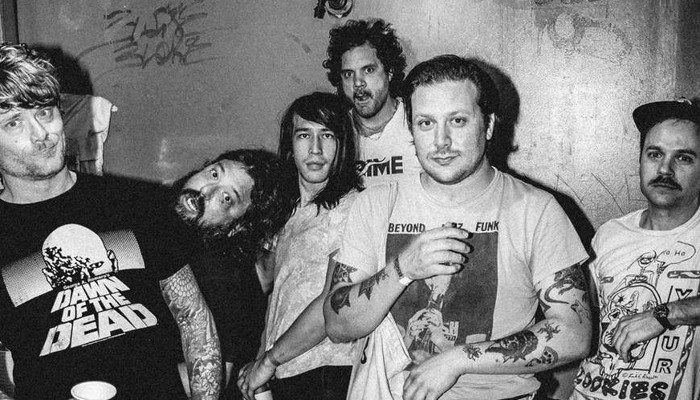 The new record from Thee Oh Sees is a wildly entertaining ride, fueled by vintage sounds combined with experimentation.
All that Thee Oh Sees do is write music and release records. With the release of Face Stabber, that brings the total to 22 studio records released by the band. Primary songwriter and core member John Dwyer has been there for all of them and continues to impress creatively. The shining accomplishment of such a huge catalogue is that they always bring something to the table. On their latest release, they keep the signature Oh Sees sound while being able to delve into different, experimental things. Basically, they do what they want and for the most part, it works. 
The Daily Heavy kicks off the record with what sounds like a squeaky pet toy effect layered with a heavy, marching drum beat. Creative vocal arrangements and hypnotic background tracks make this a solid listen. This is classic Oh Sees with vintage guitar sound and it's a wholly entertaining song. The Experimenter is also stylistically Oh Sees and the song rolls through with a sound that will keep your attention. Just a rock-solid song and a great addition to the album.
The title track, Face Stabber, is a standout with a huge drum sound, driving rhythm, and super catchy riffing. Snickersnee is incredibly catchy and has staying power in your head. You'll be hearing the outro while you try to go to sleep the night after first hearing it.
FU Xi has a Frank Zappa-like quality and is very, very catchy. Lyrically, it is appealing and memorable, and musically it has elements of controlled chaos and sounds improvised at times. Very jam-session-like and a great listen.
Scutum & Scorpius is over 14 minutes in length. It has a heavy organ-fueled intro and is very 70's sounding. This is a dynamic song with trippy breakdowns. It would be easy to say that the song is too long, but is it? It slithers along with a jam band vibe all the while introducing something to the mix. Manic bursts combined with zoned out meandering gives this track a cool feel. Sure, they could have cut it to 7 minutes in length, but they also could have increased it to 17 minutes. It's all about the feel for this track, and it sounds like they played until it felt right to stop. 
Gholü is a frantically paced garage rock anthem. Classic sound, furious tempo, and will make the clubs erupt during live performances. Short and to the point. 
Poisoned Stones and Psy-Ops Dispatch is vintage Oh Sees to be sure. These tracks are tight and musically sound, offering exactly what you would expect. Poisoned Stones speaks for itself when you listen, and the cool vocal harmonies of Psy-Ops Dispatch make it one of the catchiest songs on the record.
S. S. Luker's Mom features a simply perfect intro and chaotic rhythms as the rhythm section crushes. The main riffs slice through the rock-solid foundation and creates a captivating wall of sound. This is just a great track.
Heartworm is over as fast as it begins, and packs quite the punch. Sure to be a crowd mover, this is strong stuff. Together Tomorrow is another fast-moving burner. Checking in at just over 1:30, it is maniacally performed with a strong vocal delivery. 
Captain Loosely has a creepy, ambient feel – it's like you are listening underwater or in a dream state. Coming in on the heels of Heartworm and Together Tomorrow, an experimental and calming track like this is slotted in a perfect spot on the record and runs into the next track seamlessly.
Henchlock checks in at over 20 minutes in length and is a bold way to end the record. Basically, it is Oh Sees doing whatever they want to do, and in this instance, it's a 20-minute jam session. It is a little long-winded and could have definitely been condensed, but for what it is it's a fine track.
Face Stabber is an expansive and broad record. Thee Oh Sees didn't rest on their past successes with this one, and they managed to keep their signature sound while pushing boundaries and taking a few stylistic risks. With 21 records already under their belts before this one, you can't expect the band to not branch out a little…they did, and it worked. This is a great entry into Thee Oh Sees discography, and I expect it will be one of those albums that will age really well. 
Score: 4/5