Buried before its scheduled release, Neil Young releases Homegrown, finally gets its place in the sun, some forty-five years after being shelved. 
The veteran singer-songwriter Neil Young is known for having several complete albums stored in his vaults, and the mythical Homegrown is the latest in a schedule of previously unreleased 70's albums from his 'Archives' series. Long coveted by hardcore fans and the subject of much conjecture, the missing link material was cut during sessions in late 1974 and early 1975, just at the point where his relationship with partner Carrie Snodgress was nosediving. 
Young has aired a slew of songs from the sessions over the years in live performance and re-recorded a few for later albums, but the original LP has lain dormant for forty-five years and has resisted bootlegging. In the wake of the heavy-lidded bleakness of On The Beach, Reprise Records were keen to push the Canadian in the troubadour direction of the all-conquering Harvest and After The Goldrush; the resulting work is bittersweet and anchored by pristine acoustic melody but its author regarded the music as too painful and personal to see the light of day.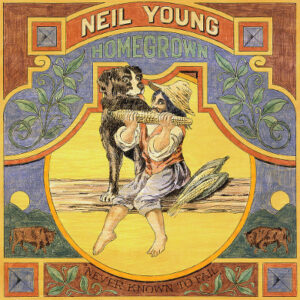 The torment and ache that Young said delayed the original release is palpable in much of the record's sobering lyrical content. The opening mellow two-step, Separate Ways, an affecting chronicle of love's loss, is typical: "I won't apologise/The light shone from in your eyes/It isn't gone/It will soon come back again/Though we go our separate ways/Lookin' for better days/Sharin' our little boy/Who grew from joy back then." The weeping pedal steel by Ben Keith nods towards the triumphant Harvest, but the optimism of a new union permeating that record is now consigned to history.  
On others, his grainy, bashful vocals sound placatory, sentimental even. "We've got lots of time/To get it together if we try," he reassures on the loping Try, a mellifluous country shuffle that's subtly elevated by Emmylou Harris's backing vocals, Levon Helm's unobtrusive drumming and the singer himself on piano. On the sparse, gently picked Kansas, Neil Young revisits his relationship from the vantage point of its blissful early days: "I feel like I just woke up from a bad dream/And it's so good to have you sleeping by my side/…It doesn't matter if you're the one/'Cause we'll know before we're done." 
Kansas, the keening Star Of Bethlehem and the captivating piano ballad, Mexico, are all fit to grace any of Young's hot streak mid-70's offerings. Emmylou imbues Star of Bethlehem with pathos and grit as its writer waxes nostalgic: "Ain't it hard when you wake up in the morning/And you find out that those other days are gone/All you have are memories of happiness." Meanwhile, as his voice cracks at the edges, he asks on the latter: "Why is it so hard to hold on/To your love?"
Florida is one of Young's most outre moments, a spoken-word stream of consciousness backed by the sound of a wet finger rubbing the rim of a wine glass; one can't help feeling that this would have been best kept in the vault. Similarly, the grungy, mid-tempo title track is a listless paean to weed that's as forgettable as the humdrum stoner blues jam, Don't Smoke It No More. There is much more pleasure to be derived from the album's most well-known tune, Love Is A Rose (first aired by Linda Ronstadt in 1975); it is a disarming, reflective gem about the fading of love in which Young's crystalline falsetto shines. 
Whereas Harvest peppered its melancholic, Nashville-flecked longing for new love with warmer tones, the intimate country-folk-rock essayed here by Neil Young is more concerned with peeling back awkward emotions, mourning estrangement and seeking closure from heartache. Most of Homegrown bears the trademarks of Young's vintage era – the fragile quiver of his inimitable voice, the featherlight touch of his acoustic guitar – and makes for a poignant, swollen-hearted and resonant dispatch from a place of vulnerable disquiet. 
Score: 4/5