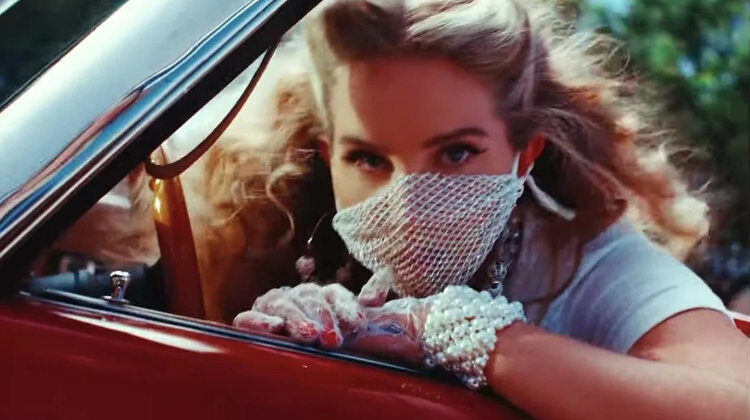 Lana Del Rey's sublime new album Chemtrails Over The Country Club reveals a more exposed side of the singer.
Ethereal and atmospheric, Chemtrails Over The Country Club is a nostalgic record full of airy melody lines and blossoming harmonies. Lana Del Rey proves she can pull off a falsetto just as well as her powerful trademark low notes in the opening track White Dress, which also serves as the third single from the album. 
Whilst it's different from much of her previous music, the delicate, almost raspy tone that she employs gives the track an air of vulnerability that enhances its overall tone – although, it has to be said, the line "down at the men in music business conference" does seem a little awkward and out of place compared with the rest of the song.
The thin vocal style continues in Wild at Heart before developing into a fuller melody with country undertones. The harmonies are showcased well here and are reinforced thanks to the uncomplicated backing instrumentation. Elsewhere, Dark but Just a Game is a hypnotic, introspective track that addresses the less glamorous side of fame: "The faces aren't the same / But their stories all end tragically … And that's the price of fame / A tale as old as time, you'd be / A pretty little fool to think exceptions to the rule."
One of the highlights on the record is the acoustic love song Yosemite. Initially set to be included as part of Del Rey's Lust for Life album, she stated in an interview with Zane Lowe back in 2017 that it did not make the final cut as it was "too happy, we're not there yet." Despite this, the song itself is tinged with melancholia as its lyrics suggest a happier time, resulting in a gorgeously bittersweet track that overlays Del Rey's delicate vocals on top of a steadily moving guitar and haunting synthesisers.
Other notable tracks on the album include Breaking Up Slowly, a mournful country ballad sung alongside Nikki Lane, and a cover of Joni Mitchell's For Free, the closing song on the record which features Zella Day and Weyes Blood.
On the whole, Chemtrails over the Country Club makes for a divinely stripped-back collection of tracks. Whilst the record is perhaps not as musically diverse as it could be, this is made up for by Del Rey's tender lyrics as well as the exquisite instrumentation throughout.
Score: 4/5