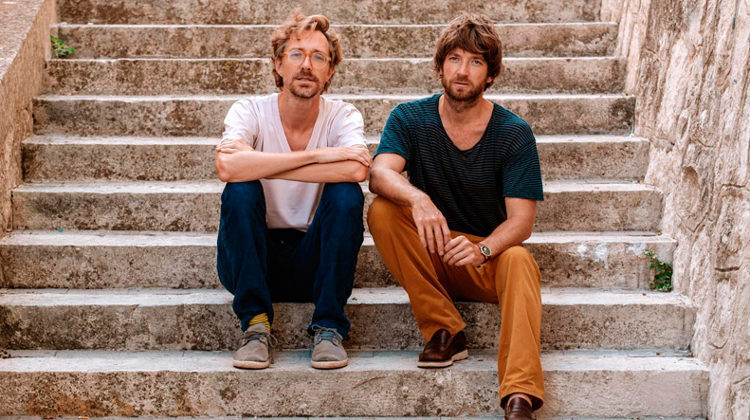 Kings of Convenience return to the live scene and celebrate their newest album with shows at London's Royal Festival Hall.
The Nordic folk-pop duo Kings of Convenience aka Erlend Oye and Eirik Glambek Boe don't tend to tour very much and there was a hiatus of twelve years between their most recent albums, so their decision to perform both a matinee and evening show at The Royal Festival Hall at London's South Bank Centre on Sunday was like manna from heaven for those die-hards who've been deprived of seeing their heroes in the flesh for so long.
The band rose to fame in 2001 as feted progenitors of the New Acoustic Movement alongside the likes of Turin Brakes and Ben & Jason. Their whisper-soft, delicate and delicious Quiet is the New Loud debut served up melancholy, Simon And Garfunkel and Nick Drake-inflected melodies but with a slant towards European pop tradition; this was followed by the assimilation of bossa-nova textures on 2004's equally lovely Riot on an Empty Street. 
In 2009, the sun-bleached and Balearic-tinged Declaration of Dependence received warm reviews and very little was heard from them until June this year, when they issued their fourth disc, Peace or Love, another charming slice of sleepy pastoral festooned with drum machine and violins. 
The modest Norwegian pair, suitably attired in understated norm-core threads, prove great company for a packed, sell-out South Bank crowd on Sunday lunchtime. With the tactile informality of a warm blanket, they weave wry and self-deprecating vignettes around their hushed, lovestruck songs and even start a mass bout of finger-clicking that gets everyone on their feet.
Music this simple and pared down requires a razor-like sharpness of songwriting craft in order to hit the melodic sweet spot, and softly stirring, mellifluous tunes of the calibre of I Don't Know What I Can Save You From and Misread unspool with a cool, effortless poise like a sea breeze or the crunching of leaves in autumn. 
The pellucid interplay of their breathy close harmony voices and gently finger-picked guitars remains central to their charm, providing a sense of an intimate and private exchange being played out in front of their adoring hordes.
The evocative, lovelorn Cayman Islands and the gossamer, plaintive Love Is A Lonely Thing are typical of the band's minor-key fare, luxuriating in a loose, bittersweet comfort, streaked with both dewy-eyed innocence and hard-won wisdom. 
Despite some glaring omissions in the set-list (no Toxic Girl, Failure, I'd Rather Dance with You or Winning a Battle, Losing the War), Kings of Convenience make for engaging hosts, exuding a boyish magnetism and captivating the hall with their grace and sheer loveliness.