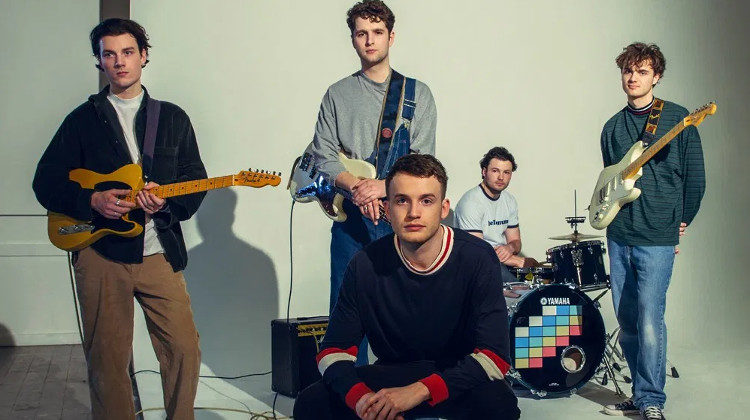 Junodream creates a dreamy and sonically pleasing atmosphere on their latest EP entitled Isn't It Lovely (To Be Alone)

Junodream are comprised of Ed Vyvyan (vocals), Dougal Gray (guitar), Tom Rea (guitar), Will Ryder (bass) and Jake Gidley (drums). Isn't It Lovely (To Be Alone) is the second EP from the band, previously having released the record Terrible Things That Could Happen. Almost immediately there was an underground buzz of sorts about them, receiving strong playlist support which helped push their streams to in excess of three million. With the release of the new EP and several shows already lined up in support of it, Junodream is set to bring their music to even more of the world. Isn't It Lovely (To Be Alone) checks in at only four tracks in length, but the band makes the most of their time by creating a wonderfully atmospheric and emotional record.

The EP kicks off with the soaring and dynamic track, Limiter. The guitar slices through the piano foundation with precision and sets a melancholy yet beautiful mood. You can clearly hear elements of their influences, but it's also refreshingly original. This is a captivating way to start the record and, at times, it's chill-inducing.

Nobody Wants You then slides in with a dreamy feel and shoegaze elements. The lyrical delivery on this song is brilliant, and it has a great tempo with a soul touching groove. There are also psychedelic elements to the song, and overall it's simply a wonderful track.

As Far As I See is next up, as it slowly pulls you along with a reflective and trance-like vibe. The mood of the music gives you a sense of longing, being both haunting and memorable. It's a slow burner for the first half before picking it up and taking you where you need to go. The rhythm section lays down a solid foundation with a catchy bassline.

The title track finishes up the EP, in an emotional and draining fashion. I pick up a sense of pain and finality in this one as if you are just done with it. As if you have tried to save a relationship, but it's crashing and you just want to retreat to a safe place. Ed Vyvyan belts out as much with "…I wanna go home" and a sense of vulnerability yet wanting to take control back. It's a beautiful and emotionally draining song and reminds of Arctic Monkeys at times – which is meant as high praise.

I thoroughly enjoyed every second of this EP and I'm sensing good things are to come for these guys. Musically the record is strong and never boring. Lyrically, you'll pick up on common themes for the generation – anxiety, uncertainty, and just "growing up" in general. Isn't It Lovely (To Be Alone) is a wholly entertaining release, and I'm excited to see where this one takes them. Expect to hear a lot more from Junodream going forward.

Score: 5/5