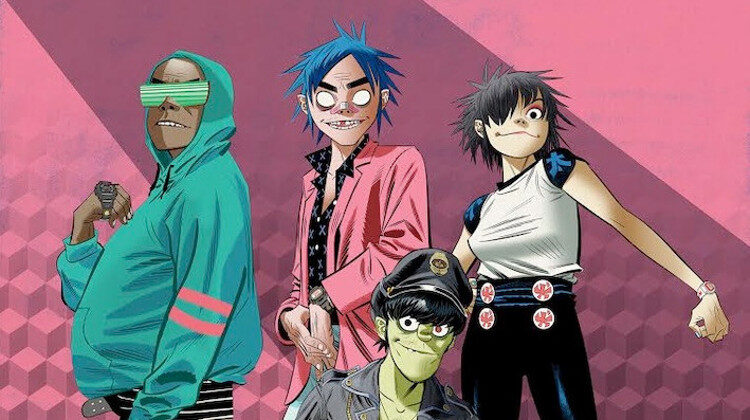 Murdoc, 2-D, Russel and Noodle aka Gorillaz are back with their latest album and, once again, they do not disappoint.
Gorillaz' appropriately-named seventh album Song Machine, Season One: Strange Timez incorporates genres from punk rock to trip-hop and almost everything in between, satisfying a wide range of musical tastes. The band have outdone themselves, collaborating with a variety of guest artists – including Elton John and Fatoumata Diawara – to provide us with a plethora of diverse and highly innovative tracks. Gorillaz have been releasing the album's singles since January 2020 as part of their audiovisual project Song Machine – carrying us through the coronavirus pandemic, for which we are truly grateful – and, at last, the album is finally here.
The title track features The Cure's Robert Smith, with his distinctive vocals cutting through the trippy fusion of electropop and darkwave to produce a fitting opening song. A little later on, we are treated to Leee John's soaring falsetto in The Lost Chord, a smooth and seductive record that pulls you in, as well as the funky hip-hop tune Pac-Man featuring ScHoolboy Q that is impossible not to dance to.
However, the first standout song is by far The Pink Phantom, featuring Elton John and 6LACK. This is the closest we get to a ballad as the soft piano and candid lyrics create maximum impact with three different generations of artists joining forces to produce a melancholy yet magical number. This combination of musicians would never have crossed any of our minds and yet it works wonderfully; the result is a chilled-out, R&B-meets-pop-rock track that entirely transforms as soon as Elton John joins lead vocalist 2-D (voiced by Damon Albarn) and 6LACK about a minute into the song.
The following track, Aries (featuring Peter Hook and Georgia), lifts the mood with a nostalgic-sounding guitar riff and upbeat chorus that contribute to the feel-good mood of the song, but later we come to another highlight as Malian artist Fatoumata Diawara joins Gorillaz to produce Désolé, a catchy tune with bossa nova undertones that's guaranteed to stay in your head all day. Sung in English, French, and Bambara (a national language of Mali), it features a superb bassline and a strong contrast between Diawara's husky vocals and 2-D's smooth, mellow tone. It's easily one of the best tracks on the album.
The deluxe tracks also contain some interesting listening material. Among them is Opium (featuring EARTHGANG), a vibrant, futuristic dance banger with a layered build-up of deep house and samba-inspired beats as well as a jazzy piano outro. Meanwhile, the dark, heavy trip-hop number With Love To An Ex features Moonchild Sanelly, who sings with attitude above the strong bass and powerful drumbeat.
Altogether, Song Machine, Season One: Strange Timez is a creative mix that showcases Gorillaz' incredible versatility. However, due to the virtual nature of the band as well as the fact that the Song Machine project is a web series and not just a standard album, Song Machine, Season One is a visual experience as much as it is an aural one. Therefore, it's well worth taking a look at the music videos, or 'episodes', that have been released in order to fully appreciate the album (bassist Murdoc will tug at your heartstrings in Désolé whilst Elton John drawn in the style of Gorillaz in The Pink Phantom is downright adorable). Ultimately, it's safe to say that both long-time fans and new listeners are in for a treat – and a huge one at that.
Score: 4.5/5