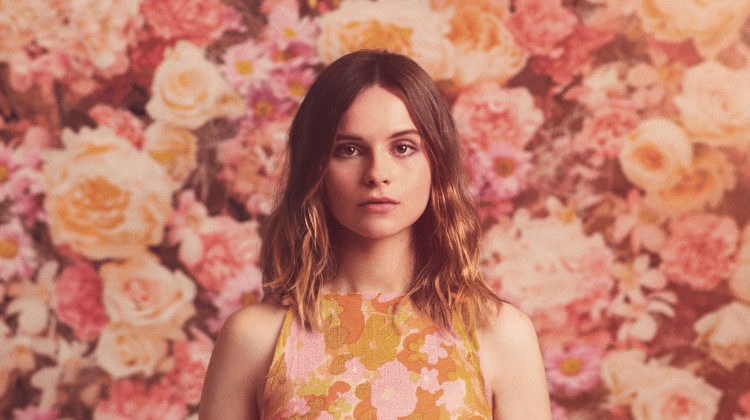 Is Gabrielle Aplin the new Bjork? or even the new Gwen Stefani? There is an odd and sweet eccentricity to this album, a quirkiness with an intellectual bent on both the album artwork (which seems to be inspired by Frida Kahlo) and it's fresh and lively content throughout.
Her second studio album, 2015's Light Up the Dark, saw Gabrielle Aplin moved forward from a soft vocal rooted in folk and acoustic tunes to the indie-pop world. In five years, she has stretched herself as an artist, and with two EPs (2016's Miss You and 2017's Avalon), we now have the release of new record Dear Happy. If you are already a fan you will love this and if you don't know about this talented young artist get yourself ready for a rare treat. All of the tracks on this album examine with refreshing honesty the artist's feelings about her life. 
Kintsugi is a stand out track and is an odd combination of rap and swirling vocals which gave me goosebumps on hearing it. It's inspired by what it's named after – Kintsugi, the Japanese art-form based on the idea of 'precious scars' where they glue precious ceramics back together with gold. Okay, I am sold on this concept and this song. The lyrics for this track are thought-provoking, spiritually uplifting and carry a great message for all of us. Namely, turn your emotional scars into golden lessons and transform negative experiences into positive ones. 
Dear Happy is the title track and the direct result of her seeing a therapist, someone who has worked in the music industry. She gets that there's no routine in that world and in this track she changes again, with a thoughtful throaty vocal that reminds me of Adele with a theatrical Kate Bush attitude. Again, this track has me with shivers up my spine; this girl has real talent. For me, if an album makes you feel different, better, uplifted, then the artist has really done their job. Gabrielle Aplin is REALLY doing her job. Strange then comes on like a funky chunky disco track with a plethora of ideas and ultimately, very addictive.
I can sum up this album is in one word – brilliant. if Gabrielle Aplin is doing any live shows then run and see her before she becomes too famous to get a ticket. If you want to hear a fresh young artist with real talent. Then get yourself a copy of Dear Happy.
Score: 5/5