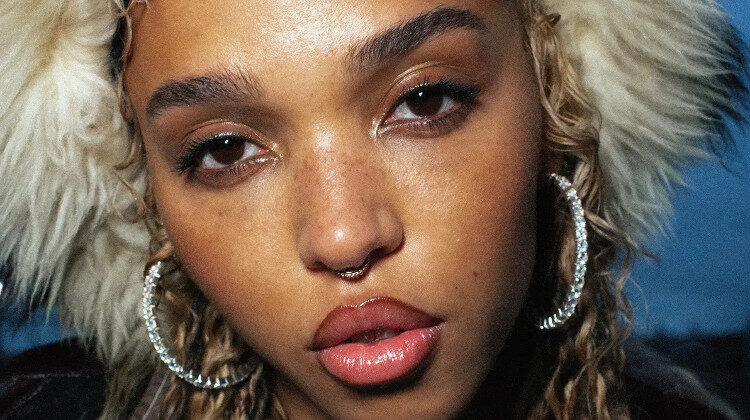 FKA Twigs makes a welcome return to music with her debut mixtape CAPRISONGS, produced mostly over facetime with a wide range of collaborators. 
Using transcendental soundscapes and astrological imagery, this release is an introspective examination of the artist's deepest vulnerabilities, as well as her most poignant moments of joy.
As she puts it: "it's my stubborn caprisun ass telling me to work thru my pain by delivering at work, don't think just go studio and create, my saggi moon being the enigmatic temptress craving the club, to dance and to be social and my pisce venus hot mess disastrous heart falling in love all over again."
From the off, FKA Twigs imprints her musical signature in our ears, declaring "I'm still that mysterious bitch" (ride the dragon) on the opening track. As always, her music is an electronic enigma that can be consumed through both deep and passive listening, depending on the type of listening experience you desire. It's "The perfect music to think" (which way, feat. dystopia), as the meandering production and vocal dances around your mind; flirting the boundary of whimsical pop and experimental, avant-garde.
What FKA Twigs does well is blend her ethereal, soprano vocal with flirtatious production with bassy undertones of realness. This is executed brilliantly on tears in the club (feat. the weeknd), with the title alone creating strong, emotive imagery. The direct lyricism compliments this sound world well, as FKA Twigs's glittery, breathy vocal defiantly declares "I don't wanna believe that I belong to you/I move myself in ways that you could never do". 
Within her signature sound, FKA Twigs always leaves room for growth and experimentation of other genres, whether that be the up-tempo sugariness of pamplemousse or the sunshiney dancehall of papi bones (feat. shygirl); all without losing her sense of voice and individuality. Twigs dwells on this theme of desire for change and growth in meta angel ("I wish I had help from a deeper force/Some kind of meta angel/Then they could whisper all the answers"), alongside an honest sense of vulnerability ("Each year I'm like, ah, I'm gonna own my shit, and then each year I'm still so shy and so quiet […] I get confused with what I really want"). Her electronic humanity enters a more mellow and slow realm on oh my love, through exploration of unrequited love and modern dating ("I hate it when you give me half […] Everybody knows that I want your love").
Despite all this vulnerability, however, there is always hope ("I just wanna go outside and feel the sun is shinin' on my better side", jealousy feat. rema). Through sampling Olive (You're Not Alone) and collaborating with Jorja Smith and Unknown T on darjeeling, Twigs emphasises how even through the loneliest times, there is hope and togetherness to be found in others and in yourself.
Score: 4/5