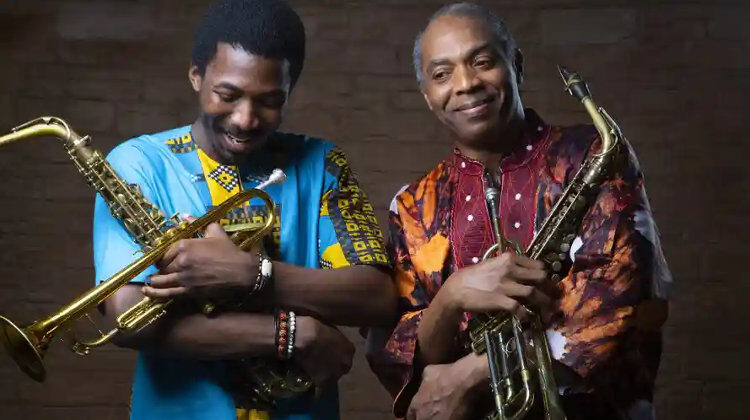 If there is one thing that is certain in life, it is that great music keeps coming from the Kuti family, as Femi and Made certainly show through their new record, Legacy +.
The father and son have more than adequately followed in their father/grandfather, Feli's footsteps through the music they have created for this exciting record. The strive for change was frequently foretold and sought after by Feli Kuti through his legendary music and that attitude is continued via his family as both Femi and Made continue to highlight corruption through blissful sounds.
Femi Kuti's section of the record kicks off with a bang as Pà Pá Pà plays and brings pure energy from the start. Fast-paced beats, pure instrumental talent and excellent vocals are evident throughout this track and as a listener, you really couldn't ask for much more from an opener. It sets the scene perfectly for the whole project. However, as bouncy as this first tune may seem, it still sets a great scene of frustration with the government, a frustration that can be further heard as the record advances.
The feeling of every day challenges through many different elements of life is very well presented through songs such as Land Grab and Stop The Hate. Both tracks communicate frustrations of injustice and pain whilst they continue to maintain a funky beat that gets the body moving, it is a brilliant use of juxtaposition.
As the record progresses, tracks like Higher You'll Find, No Bigmanism Spoil Government and As We Struggle Everyday provide a more melodic experience as they do not possess as many vocals. However, do not let these tracks fool you as for their absence of voice, they more than make up for with the variety of sound they have on show.
Other highlights from Femi include Show of Shame, You Can't Fight Corruption With Corruption and Set Your Minds and Souls Free. They continue to showcase pure jazz and they set the stage perfectly for the Kuti's third generation of music to enter the fray.
Made's music may continue to showcase the sound and style that has become so synonymous with the Kuti family but that does not mean to say that he does not put his own, unique stamp down on this record.
As soon as Free Your Mind begins you can instantly hear a contrast in style. The energy is still there in abundance but the music has a calmer feel to it. Your Enemy follows and it continues to convey the voice of injustice and suffering in the world, a topic that is all the more relevant in the modern-day. Shortly after, the climax of Legacy + is reached as Higher You'll Find, Young Lady and We Are Strong continue to display great musical diversity whilst they give off a more modern feel to the record.
It cannot be denied that this father/son duo is a brilliant thing for jazz, soul and afrobeat alike as the two are bound to leave listeners wanting more. All in all, this record ticks a lot of boxes and you can hear the love of music throughout its entirety. Legacy + clearly shows that Femi Kuti and Made have inherited huge talent as they continue the legacy that Feli laid down through his enormous success.
Score: 4/5