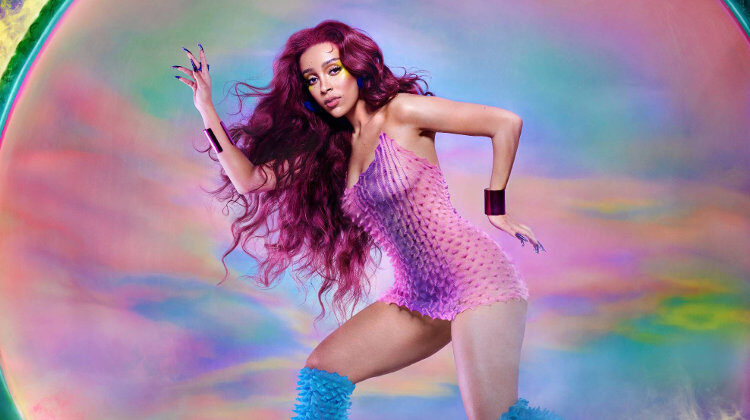 The ever-enthralling Doja Cat breathes more weirdness and escapism into new album, Planet Her.
Doja Cat's relatively short career has already been fraught with triumph, controversy and surrealism. The ultimate artist of our time, Doja can storm the charts, dominate TikTok and shut down Twitter in the same breath – and Planet Her is the perfect demonstration of this. On the one hand, the album excels in articulating acutely intimate feelings through music – particularly regarding the giddiness of new love. On the other hand, the overwhelming surplus of 'aesthetic' occasionally leaves a lot to be desired. 
Firstly, this album is strikingly pretty. Everything is at least mildly suggestive, while coated in a gooey glaze of glittery production. This is heightened by Doja's vocal, through juxtaposition of ethereal falsetto and chocolatey contralto in close proximity. One of the recent singles of the release, Need To Know, encapsulates this perfectly as Doja's dense triplet flow is layered over futuristic disco production, segueing seamlessly into a disjunct, electronic UFO melody emphasising the space theme of the release. 
prednisone 20mg
While Doja excels in the ethereal space-pop realm, she can also occupy a more pensive, in-my-feelings escapism in the middling mellow tracks like Love To Dream and You Right feat. The Weeknd. Doja's sound has grown and evolved throughout her career, but the bulshy teenager who went viral with "Mooo!" emerges from time to time to criticise her former lover who was "All up in your fridge, can't pay rent" (Ain't Shit). Conversely, this evolution allows her to articulate thorny and delicate issues in her dense lyricism, such as the anxiety of intimacy (Naked) and manipulative behaviour ("I seen a grown man cry, baby/Just see you do it, ain't special, no/Wonder when I ain't there/What the fuck you've been sayin'/Talkin' 'bout how I sexed you up", Been Like This).
Unfortunately, lethargic lyricism and the sheer laziness of filler tracks like Imagine and Alone let down this release. The female empowerment theme on Woman lacks clarity, due to overuse of superficial buzzwords and the diluted Afrobeats production. In fact, this theme is more meaningfully (and succinctly) expressed in the last line of Get Into It (Yuh), "Thank you Nicki, I love you".
Doja Cat is a weird one, to say the least. Her past and views are disturbing, but once you embrace her brand of weirdness it is hard to escape the escapism. Regardless, she is setting the new standard for pop, with every track on Planet Her racking up over a million views on Spotify in mere days. Despite the overreliance on sensationalism, underneath the glitter is something more serious – even if it sometimes takes some digging to uncover it. As we have already seen with the enormous chart and viral success of Kiss Me More feat. SZA, when Doja does her thing well, the success is extraordinary. 
Score: 3.5/5