Black Star Riders bring new chemistry and energy to the table with their fourth record, Another State of Grace.
Black Star Riders frontman Ricky Warwick is no stranger to the scene with stints under his belt with bands like New Model Army, The Almighty, and a later version of Thin Lizzy. Along with classic Thin Lizzy guitarist Scott Gorham, Black Star Riders set into motion with their debut album, All Hell Breaks Loose, released in 2013. The then-current Thin Lizzy lineup decided to record new material but didn't want to release the songs under the Thin Lizzy banner. Warwick and Gorham were pleased with the results of the debut record, and two subsequent releases would follow: 2015's The Killer Instinct, and the 2017 record Heavy Fire. Robbie Crane (Ratt, Lynch Mob) joined the band in 2014, Chad Szeliga (Breaking Benjamin, Black Label Society) joined in 2017, and Christian Martucci (Stone Sour) completed the current lineup in 2019. With the new lineup in place, the band is ready to roll with their latest effort, Another State of Grace.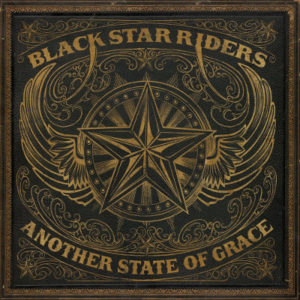 The album kicks in strong with Tonight The Moonlight Let Me Down, which checks in at just under four minutes in length. This is a very listenable track and has a classic FM radio feel to it. It features a vintage, professional sounding song structure and strong guitar solos. This is a straightforward rock and roll track and a nice way to open the record. The title track continues where the first track left off. It's really well mixed and produced, and has an anthemic and catchy chorus with a solid rhythm section. The first half of the record winds down with tracks Ain't The End Of The World, Underneath the Afterglow, and Soldier In The Ghetto. The songs have grit, groove, and strong vocal delivery, reminiscent of the legendary Phil Lynott at times. Classic rock and roll lyrics such as "Hate's a four-letter word, love's a four-letter lie" abound, and the guitar sound is particularly strong.
The second half of Another State Of Grace opens up with slower track, Why Do You Love Your Guns? This features heavy lyrical content as it was written after the Sandy Hook Elementary School shooting in 2012. What Will It Take also has a bit of a slower tempo, but the rest of the record continues with the straightforward rock and roll vibe. Standing In The Line Of Fire has your tried and true rock and roll lyrics, and In The Shadow Of The War Machine is a textbook rock song. Poisoned Heart brings the record to a close, and finalizes what is a solid effort.
Black Star Riders are a band who are clearly the products of their past musical experiences and influences. There is no new ground being broken here, but what is here is a strong collection of solid Rock and Roll songs performed by seasoned veterans. It's good stuff. This is music that would sound great in a dirty dive bar, yet would also translate well in arenas. Joe Elliott of Def Leppard is on record as saying that Another State Of Grace is the best effort from the band to date, and it's my guess that many other listeners will agree.
Score: 4/5