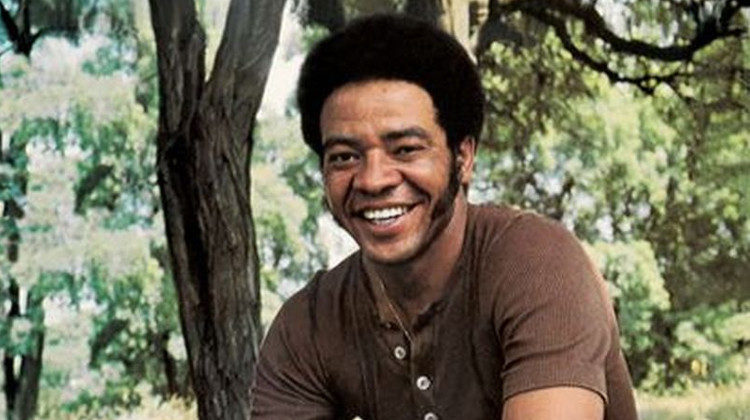 The news of Bill Withers' death at the age of eighty-one hit me like a freight train last week; another musical legend departing this world whose singular excellence we've somehow taken for granted over the years.
Casual listeners of this humble soul's output will naturally gravitate towards the likes of Lovely Day, Lean On Me and Ain't No Sunshine, FM radio staples whose charms have reverberated for decades, seem embedded in popular folk memory and show no signs of abating. However, there was much more to this fine artist than supremely crafted and undemonstrative ear-candy, as illustrated by a series of remarkable albums and a tumultuous career that had numerous peaks and troughs.
Bill Withers emerged from a convergence of musical movements in the early 1970s: the acoustic singer-songwriter genre and the blossoming of soul into a conceptual, socially conscious and album-based enterprise. Withers' strengths lay in his seamless, gritty and mature straddling of both these developments, as typified by such genre-crashing classics as Just As I Am (1971), Still Bill (1972) and his magnum opus, the rightly revered Live at Carnegie Hall (1973).
His debut, Just As I Am, bore the hallmarks of the classic Withers folk-soul sound that set him apart from his contemporaries and felt like the statement of a fully-formed artist already operating at the peak of his powers. Even in an era notable for Stevie Wonder and Marvin Gaye ratcheting the content levels for soul, his affecting singing, tender playing and haunting lyrics were pushing pop into more sophisticated and adult territory. He was already in his thirties and had worked in numerous jobs including milk delivery and the Ford Motor Company before his big breakthrough; this life experience can be keenly felt in his material. When he sang of hardship, struggle, disappointment, loss and disaffection, the listener knew instinctively that Bill had been there and wasn't merely gesturing.
Harlem ushers us in with all the urgency of an express train, its ghetto life evocation of communal living balanced by the swollen-hearted lament of Ain't No Sunshine and the homespun, front-porch eulogy of Grandma's Hands (whose hummed intro was famously sampled by Blackstreet on No Diggity), both of which provide enduring ballast as perennial favourites. The album is also notable for the stunning Hope She'll Be Happier (a heartbreak song of fragility which inspired Terry Callier and others) as well as its judicious selection of covers, namely Lennon/McCartney's Let It Be and Fred Neil's Everybody's Talkin.
Released just a year later, the self-produced Still Bill is another consummate masterwork, couching ineffable anthems like Kissing My Love, Use Me and Lean On Me within a taut, funk-soul framework courtesy of the Watts 103rd Street Rhythm Band whose vivid sense of precision-tooled economy is like manna from heaven. Romantic love is dissected from a plethora of angles: sweaty paranoia on Who Is He (And What Is He to You)?, unfettered joy on Kissing My Love, infatuation and masochism on Use Me, solidarity on the gospel-infused Lean On Me.
1973's Live At Carnegie Hall represents the zenith of Bill Withers' career for me. Firmly ensconced in the canon of great live albums, this is legendary not just for the quality of the music but also the singer-songwriter's relaxed, affable between-song jibber-jabber. Recorded in October 1972, less than eighteen months after he'd quit his job in an aircraft factory, Withers holds court at one of the world's most reputable venues with all the poise and self-assurance of a seasoned pro. Backed by luminaries Ray Jackson on piano and James Gadson on drums, this wondrous album is distinguished by glorious and impassioned readings of Use Me, Lean On Me and Ain't No Sunshine, as well as the brilliant anti-Vietnam War testimony, I Can't Write Left Handed and an electric, funky medley treatment of Harlem/Cold Baloney that raises the roof. Throughout this mesmerising show, Withers runs through the gamut of moods and emotions, from bruised and incendiary to hushed, world-weary and wise. Topics such as suicide, war, reconciliation and heartache are handled with the artist's customary winning blend of intelligence, authority and melancholy as he pours his life experience into every syllable. Live At Carnegie Hall is captivating and uplifting in equal measure, deserving its place in the pantheon of live sets, alongside the likes of It's Too Late To Stop Now and Amazing Grace. 
As unassuming as he was gifted, the man with the sweet baritone voice leaves a significant body of work whose profundity and grace will surely last forever.