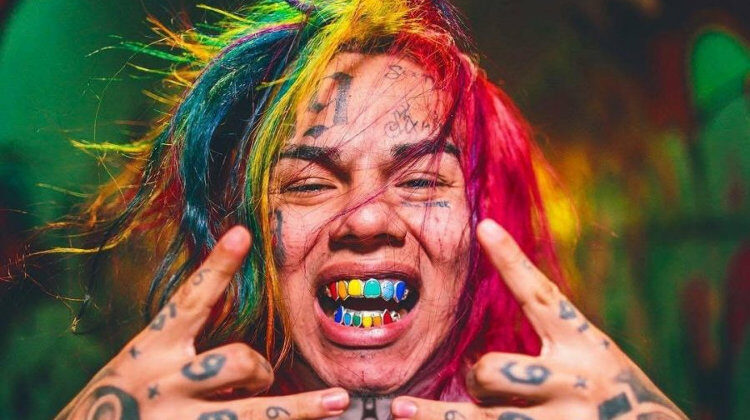 Excessive style is outlined throughout, but the substance never arrives for the new album TattleTales by 6ix9ine.
Despite controversy after controversy, Tekashi 6ix9ine is back, seemingly unfazed, with his second studio album. While a lot of effort has gone into the visual marketing of this release, there is remarkably little concrete material on TattleTales to critique. The album, as a whole, presents no real cohesion or deeper meaning across any of the 13 fragmented, unmemorable tracks. Anything that stands out is due to the work of a collaborator or producer, but frankly it's a struggle to remember anything 6ix9ine actually says over these 31 minutes– because he doesn't really say anything at all and neither does the music…
From the outset, we're presented with a jarring mish mash of a genuinely serious topic (prison time) and excessive repetition of comical jail-cell-closing sounds on LOCKED UP 2 (featuring Akon, who spent the noughties repeatedly reminding everyone he was a "Konvict"). These confusing sentiments set the tone for the rest of the album, with the only decent exceptions being reggaeton banger NINI ft. Leftside and GOOBA. In the latter, 6ix9ine demonstrates that he is a proficient rapper which begs the question: why doesn't he do this on any of the other tracks?
The rest of the album isn't really an album, but an assortment of seemingly half-finished tracks that are difficult to tell apart from one another. That said, the production across this release is mostly excellent, especially producer Ransom's work on YAYA. Most of the guest artists also perform very well, with TROLLZ (featuring Nicki Minaj) already having achieved substantial chart success prior to this release. Unfortunately, Minaj picked up 6ix9ine's habit of "rapping about rapping" to fill her verse, even though there was an attempt at a deeper message (confronting internet trolls, apparently…). PUNANI, TUTU and LEAH ft. Akon are plagued by the same issue, coupled with short, half-baked verse-chorus structures that leave a lot to be desired. Moreover, Akon sampling DJ Sammy's Heaven is tragically cliché and adds to the overall tone laziness pervading this release.
6ix9ine has spoken out previously about his music not being given a fair shot by the music industry, but if this is what he is putting out then my sympathy levels are low. Using shock factor as a marketing technique is one thing, but this needs to be backed up with some genuine quality material – which this just isn't. Without the substance, the style really is just one big empty flex, consisting of women in bikinis, milk, money and rainbows. And maybe for some that's the appeal and it's my criteria that are wrong, but for now it's just too shallow to warrant praise.
Score: 2/5